Here at Golden Software, we love data visualization! A graphical display conveys much more meaning from your data than rows and columns of numbers in spreadsheets, allowing for quick and easy analysis and interpretation. 2Dand 3D data visualization is both a science and an art. Today, I want to focus on the artistic aspect of data visualization, particularly the use of data visualization in art.
I recruited the help of my workmates to compile a list of some of Golden Software's favorite uses of maps and graphs in pop culture. As I read the responses of my workmates, a clear profile emerged. We are lovers of fantasy, sci-fi, and quirky comedy! Read on to see our six favorite uses of maps and graphs in comics, movies, TV, and books!
1. Middle Earth (Lord of the Rings)

No map list would be complete without a map of Middle Earth. J.R.R. Tolkien's realm of hobbits, dwarves, and all sorts of other creatures comes to life not only in the words of his novels, but in the included illustrations and maps. Below is an annotated copy of a map of Middle Earth, found in a copy of The Lord of the Rings that was owned by illustrator Pauline Baynes. Baynes drew poster versions of the Middle Earth maps.
Annotated copy of J.R.R. Tolkien's map of Middle Earth
2. The Gall-Peters Projection (The West Wing)

The West Wing is known for its quick, smart humor. In this clip, members of the Organization of Cartographers for Social Equality try to convince C.J. Cregg that the Mercator projection promotes European imperialism, and the Gall-Peters projection should be used to teach geography instead. Each projection has its pros and cons. Which do you think is best for teaching geography?
3. The Friendship Graph (Flight of the Conchords)

In season 2, episode 4, of Flight of the Conchords, band manager Murray creates a graph to show the relationship status of some people he interacts with regularly. Murray graphs time against relationships that include enemies, strangers, colleagues, workmates, and friends. Do Jemaine and Bret have what it takes to reach the friendship realm?
Murray's friendship graph from Flight of the Conchords
4. Traveling by Map (Indiana Jones franchise)
Maps are often used to show travel from one place to another, rather than showing the travel itself. This sequence is used so often, it's commonly referred to as a "trope." One of the most famous examples of this device is in the Indiana Jones franchise. A red line moves from point to point as our favorite adventurous archaeologist crosses the globe.
5. Game of Thrones Title Sequence

Maps help you immerse yourself in the rich worlds invoked by fantasy stories. The TV series Game of Thrones takes you through a map of the kindgdoms during the title sequence. Get lost in the Seven Kingdoms as you try to guess who will control the Iron Throne next!
Astapor, shown in the Game of Thrones title sequence
6. xkcd
By far, the most popular answer I received when I asked my workmates about their favorite uses of maps and graphs, was math, love, and language webcomic xkcd. Author Randall Munroe often uses maps and graphs as part of his cartoons. Just a handful of Golden Software's most-loved xkcd strips using maps and graphs are below.

Self-description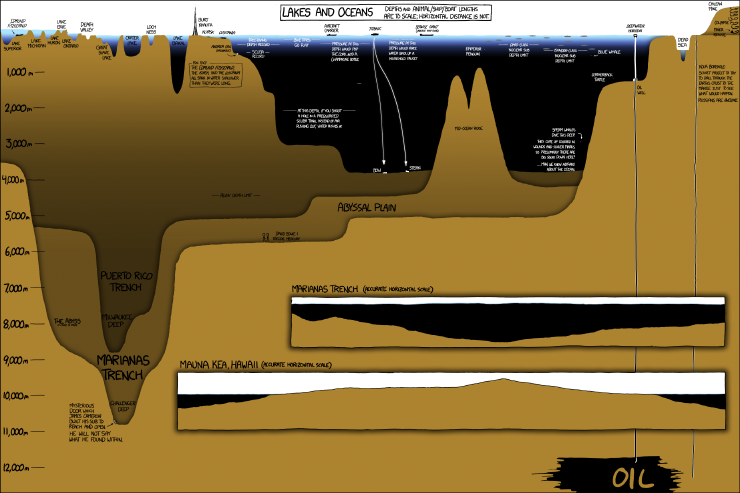 Lakes and Oceans

Map Projections
Honorable Mention
I couldn't list them all! A few others that didn't make the top 6 include the Marauder's Map from Harry Potter, the tattooed map to Dryland from Waterworld, various graphical illustrations used by Demetri Martin in his stand up, the NORAD maps used in War Games, and the map used in Star Wars: Episode VII - The Force Awakens, and the Surfer plots used in the Curse of Oak Island that aired on the History Channel!
I hope you've enjoyed this peak into the maps and graphs we love from TV, film, books, and more. What are some of your favorites? Comment below to let us know!