Transform Datasets into Knowledge with Surfer
If you're a geologist, hydrologist, engineer or you work in a related field, you have no doubt experienced the joy of conquering a vast dataset and crafting it into a compelling narrative or visual representation. It is a unique and worthwhile skill that helps decode the earth's many mysteries and makes important knowledge more accessible for everyone. However, it is also a challenging process that takes abundant time, patience and hard work. It can be overwhelming at times, too; there can be so much data to parse that it's hard to tell where to begin or how to analyze it all. It becomes more challenging still when you are inhibited by underperforming or limited software. Deciding how to take data into a spreadsheet or Excel file and use it to tell a story can feel insurmountable at times.
Fortunately, Golden Software employs innovative software developers with experience in your industry. Their skill and experience have helped them craft mapping software that is far and away more functional and intuitive than the standard options. Using a powerful and user-friendly option to easily view, analyze and represent data can drastically improve your day-to-day experience. It will help you find the joy and satisfaction of your work that may have been formerly repressed by software-related challenges.
Below are a few key functions possessed by select software options that will help you transform data into knowledge with ease.
Surfer's Map Wizard is a unique function that analyzes datasets of any size and narrows down the selection of potential map varieties. Oftentimes, determining how best to represent your data feels like a project in and of itself. The Map Wizard greatly reduces headaches and overwhelm in this area by identifying the most effective choices. Starting a mapping project will feel far less daunting, and this degree of digital support can even help you make a selection that may have not occurred to you otherwise. It will also give you ideas about how to represent data to different audiences.
 Map Wizard Training Video:
Dataset Simplifying Tools
Datasets are often of such a tremendous volume that analyzing and representing them feels all but impossible. This feeling of overwhelm can make you resent your work and increase workplace stress for you and your team. Look for a mapping software option that provides tools for tackling data more efficiently, such as filters. For example, a spatial filter command allows you to spatially filter X, Y and Z coordinates. This simplifies the pre-filtering process prior to creating a post map, variogram or grid file. Duplicate data filters help define and address duplicate data points, those with nearly identical X and Y coordinates and possibly varying Z values. The duplicate filter overcomes the problems they present by reducing them and allowing a better gridding fit.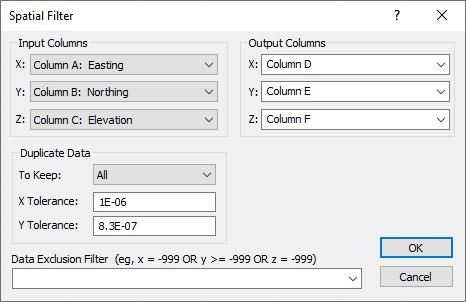 If you would like to learn more about Surfer, a mapping software solution with advanced dataset functions, call Golden Software today at (303) 279 1021 x2 or click the banner below to download the free trial.